Case Study: Creating Business Impact With Spring Theory at the University of Michigan
Professor John Branch is a lecturer in marketing and strategy at University of Michigan's Ross School of Business and academic director of the part-time MBA program. In particular, Professor Branch often teaches introduction to marketing and international marketing classes for MBA and masters of management students. Prior to the University of Michigan, Professor Branch spent five years at the Washington University in St. Louis.
He has collaborated with Spring Theory for the past 10 years, primarily with his international marketing classes.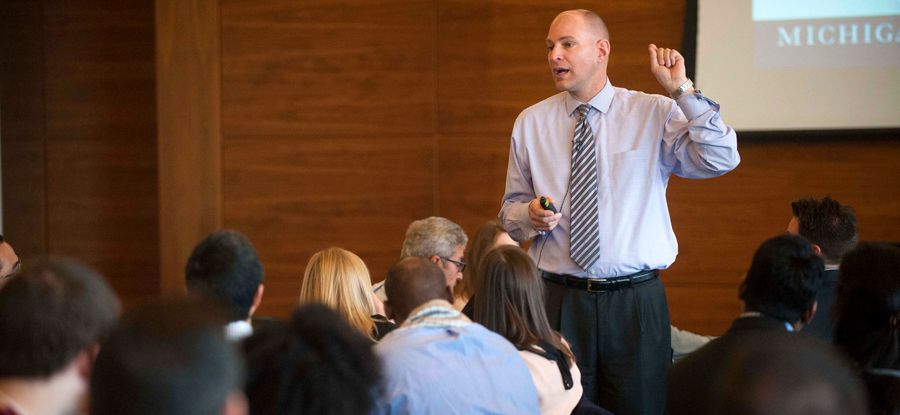 The Value of Hands-On Project Experience
For Professor Branch, the best projects for his experimental, action-based marketing classes are the ones that make students feel like they'll make a real impact. Over the years, Professor Branch has found just that with Spring Theory, giving his action-based classes opportunities to connect and work on brands such as Microsoft, Wells Fargo and Amgen.
While each brand tackled different challenges and opportunities, what made projects like these stand out was how students could grasp their applicability in the marketplace. When the Microsoft Xbox team approached Professor Branch's class, they challenged students to understand changing gaming systems and behaviors in ten key markets and make strategic suggestions for marketing in these places, including Germany, Brazil, and Mexico. While Xbox was a dominant market leader in the US, they usually trailed in the number two or three spot behind Sony and Nintendo in nearly every other major market.

Students could visualize it because it was both a tangible and very well known product, but what made the project an ultimate success was the fact that it was well-scoped and students knew exactly what was expected of them. "There was enough meat on the project that they know what to do, but enough latitude to have flexibility as well," said Branch.
Similarly, Wells Fargo came to Professor Branch's class to look at opportunities across global markets. While Wells Fargo caters primarily towards a domestic US audience, it also has a large division called international trade banking that helps companies with transfers and foreign exchange transfers. Student teams were tapped to look at the number of countries where the company may be operating poorly, and also identify markets that the bank needed to develop their presence in.
Beyond just traditional market research and competitive analysis, insights drawn from this work were immediately actionable by Wells Fargo executives, and the client team walked away with 12 new insights at the end of the semester.
Q&A with John Branch
Q: What is a best practice you would share with other professors looking to engage in this process?
A: Create formal checkpoints. A change I made this year was to require students to come and see me during the beginning of the project. In the past, I made these office hours optional but requiring them has really made a huge difference because I can either inspire teams to keep pushing forward in the same direction or catch them before they go in the wrong direction.
Q: What do you see as the biggest benefit for both students and clients in participating in a program like Spring Theory?
A: For students, they come in knowing the experimental nature of the class. It's something they can take with them to interviews and several students have wanted to get re-introduced to clients.
For clients, they just don't have the bandwidth to do this type of research, and these projects are about getting sharp students to participate.
In addition to a broad and extremely time relevant project, what made this engagement particularly successful was the level of commitment the Wells Fargo team showed from day one. They flew in to present the case on the first day of class, provided a wealth of background information on both the company and the industry, and came back in the middle of the semester to check-in on progress and answer any questions.
"It's a win-win for both companies and my classes since students are then able to use the experience to talk about it in interviews so it adds another real-life action oriented thing. They didn't just listen to another case study but had a real-life problem they were part of solving," said Branch.
How the Process Works
• Professor Branch connects with Spring Theory before the start of the semester to discuss the classes he will lead; Spring Theory matches team(s) with class
• Professor Branch speaks with client leads to discuss objectives
• Client presents case to class (ideally in person) and students select assignment they want to work on
• Regular check-ins are set up (depends on the class, but strongly suggested)
• Final presentation at end of the semester/quarter